The 5 Best Stories I Read This Week: Ben Wasserman, Flipboard
Inside Flipboard / April 27, 2018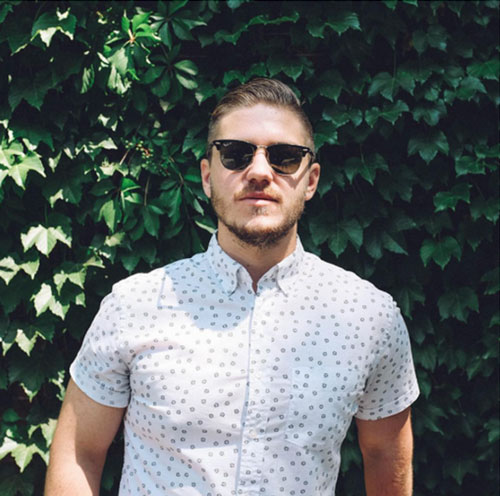 We at Flipboard are on a mission to inform and inspire the world. In light of that, we read a lot. In this ongoing series, our team shares the best things they've read recently—whether it made them smarter, challenged their perspective or just made them laugh when they really needed it—and explains why they believe each story is worth your time. This week we hear from Ben Wasserman, Communications Designer at Flipboard.
What a week, right? (I say that every week.) As we prepare to bring our story to Cannes Lions this summer, I've been doing a lot of reading to inform and inspire creative concepts. Below, you'll find a few stories that helped me think through our process; there's one about a time the world almost ended and one about how we all suffer from "phone boredom." I hope you enjoy these as much as I did! Let me know.
Hannah Forbes makes an incredible case for why brands need to spend more time activating upon their values in this piece for Adweek. As a millennial, I've experienced the power of a brand whose purpose is at the core of the team's decision making. One section particularly caught my attention:
"Educate, share and evangelize your tribe at every opportunity. Build a great product, stand for something and mean it. If your values and purpose are your backbone, you'll evangelize a tribe of loyal fans that will work hard for you."
While many brands build purpose into their products, the truly successful ones make their audience an inseparable part of their identity. And while most tech companies are not in the consumer goods or retail business, I believe that aligning your values with your audience's passions will empower them to tell your story and become your greatest champions.
How many people feel the way I do about purpose? A majority, according to this infographic I found in Adweek yesterday.
While it's easy to see how the numbers play out in retail and consumer environments (from Everlane's environmentally-conscious sourcing and transparency, all the way to Glossier's more personal mission to inspire a new definition and representation of beauty), it inspires me to envision how this can take form in the tech-media space.
"Those that focus purely on short-term transactions, ignoring this drive toward empathy and purpose in business, could lose out in the long run," a partner of creative agency Karmarama told AdWeek for the piece. Flipboard is a purpose–driven company, setting out to help tackle some of tech and media's biggest challenges from filter bubbles to fake news, content consumption and addictive tech. It's not only our responsibility, but also our opportunity to communicate our value in helping solve these problems.
My boss recently suggested I start listening to the "Adlandia" podcast,hosted by the incredible Laura Correnti and Alexa Christon. The podcast focuses on finding "the signals in the noise of the advertising-marketing industry," emphasizing the need for more substance in the industry (and the world, quite frankly). I immediately had one of those moments in life when you ask yourself, 'How did my life exist before I found this?' and 'OMG, I'm not the only one saying these things!'
This past week's guest was Ari Wengroff, "lady boss and publisher" of Vice's Broadly. The conversation centered around how Broadly is creating meaningful content for its audience and how it's working with brands to push the boundaries and perceptions of sponsored content. While sharing about her approach to content creation in the "crusade for quality," as Laura and Alexa call it, Ari said something that has stuck with me all week:
"In the same way that kids will remember a song that they like—more than a homework assignment or a math problem, because they actually like the song—we're gonna tell a story that the kid or that young person is going to like, and therefore they're going to internalize it in a different way. So when we're talking to brands it's the same thing."
Experiences that are authentic, meaningful and relevant are like good songs: they catch your attention, make you stop and listen, get stuck in your head, and inspire you to share them with your friends. Broadly has found success for both brands and for the property itself by telling stories worth telling. As we at Flipboard work to tell our story, we aim to make ones that have the same power as a good song.
Amid the past year's turbulent foreign affairs and global events, stories have continued to surface about how close a nuclear war could be. They often refer back to the Cuban Missile Crisis—an event I knew little about but, as the grandson of a former USAF commander who was on-call for information during the event, had personal significance to me.
I flipped upon this article that showed a newly released map of Cuban targets that, if necessary, the U.S. was prepared to strike at a moment's notice. As we all know, the crisis was averted, but I never fully understood just how close we came and how our existence today can be attributed to a combination of patience, good information, empathy, strategy and expert decision-making in a time of seemingly unbearable pressure.
Today, these qualities are threatened on a daily basis. When false information spreads faster on the internet than truth, and our world leaders take to their phones and social networks for both information and communication, it's easy to imagine how without the temperament and level-headedness that was displayed by a number of individuals in 1962, the event could have gone differently if it was to happen today.
Our team curates a magazine that highlights cultural trends in addicting tech and how people are seeking ways to reclaim their time and attention.
This article from The Daily Beast dives deep on the "phone boredom" we've all experienced while mindlessly scrolling through our social feeds, apps and digital environments, unable to find anything that captures our attention. It lists several ways to avoid phone boredom and highlights the opinions of teenagers they interviewed:
"'Boredom might not manifest itself in the same way it did when my parents were kids, but it definitely still happens to us,' said Addie a 15-year-old in Long Island. 'Online, we're constantly connected but we're still bored. But I still put my phone down, I still read books.'"
My perspective is this: We should be using our phones to improve our lives, to make us smarter, and to complement our real lives that exist beyond the four corners of our screens. And, yes, to laugh at memes and stalk people on Instagram (the latter in moderation).
If you want to keep up with what I'm reading on a more regular basis, I'll be curating my favorites here.
— Ben Wasserman is curating No Pain, No Gain on Flipboard.