CES 2022 Returns to Las Vegas in Spite of Pandemic
Ken Yeung / January 10, 2022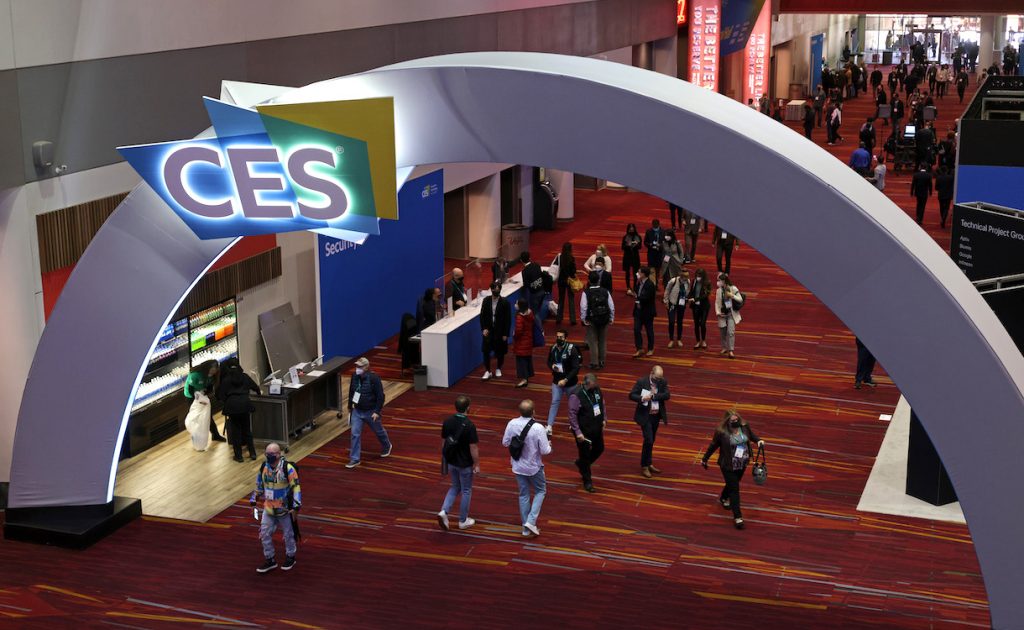 I was looking forward to the Consumer Electronics Show this year. Not because I love going to Las Vegas (I don't) or thought that the pandemic was over (it's not). Rather, I felt going to this year's show would return normalcy to my life after dealing with two years of the COVID-19 pandemic. Unfortunately, omicron's spread put a halt to those plans as the event neared, causing not only myself, but others, to rethink their plans.

The annual technology conference went virtual in 2021, but vaccine availability and a seemingly improved virus situation convinced organizers it was safe to return to Las Vegas for 2022, though in a hybrid format. To beef up confidence and safety, CES enacted a vaccine mandate and provided everyone with a rapid COVID-19 test kit. But a new virus surge ultimately caused major exhibitors to cancel their in-person appearances and forced the show to shut down a day early.
The Show Went On
At least 45,000 people attended this year, down from the more than 170,000 people that showed up in 2020. Though the show appeared more muted than previous ones, numerous announcements were still made. Could this iconic event continue to be a bellwether for innovation?

Flipboard covered this year's CES from afar, with help from CNET and Trusted Reviews: Here are my thoughts on the show:

Metaverse everywhere: A hot topic in 2021, the mixed-reality technology was present at this year's CES, bearing similar comparison to hyped topics of past shows such as 3D TVs, 5G and Wi-Fi 6. Among the headlines: Nvidia opened up its metaverse for engineers to creators and artists, Qualcomm announced it would team up with Microsoft to produce custom chips for augmented reality glasses, and Hyundai chatted about how its Boston Dynamic robots would work in the space. There were also some beauty brands and wellness startups promoting how they view the metaverse.

Bigger and brighter televisions: What would a CES be without talking about new TVs? Samsung, LG, Sony, Panasonic, HiSense and TCL all unveiled OLED displays this year, including three gigantic ones that could soon be in your living room (if you have the space): TCL's 98-inch XL TV, LG's 97-inch G2 and Samsung's 89-inch MicroLED TV. Admittedly, it's weird writing about televisions without experiencing the typical massive exhibits on the CES expo floor — they're a sight to see.
Next wave of EVs and autonomous tech: Recently, automakers have opted to exhibit innovations at CES especially conceptual prototypes and electric vehicles. Chevrolet, Chrysler, GM, BMW and Mercedes all had something to show, but among the most memorable headlines were Chrysler announcing it would go all-electric by 2028 and Sony showing off an electric SUV built to hype its mobility technology.

Self-driving cars were also part of the CES conversation, with Volvo, Nvidia, Qualcomm, Hyundai and Intel unveiling tech to move the transportation space closer to fully driverless vehicles.

Oh, and we can't forget to talk about BMW's futuristic iX Flow car which features "E Ink" paint that can change colors!

Flashy laptops: There was no shortage of new laptop and computer monitor announcements at this year's show, even with an ongoing semiconductor chip shortage. Alienware, Lenovo, Asus, Dell and HP tried to one-up each other with redesigned gaming laptops. Though you might typically care about the specifications for use in your professional life (e.g. live streaming, Word processing, watching movies, etc.), at CES the focus is on how appealing these computers are to gamers. And speaking of playing games, Nvidia unveiled its new entry-level RTX graphics cards and another chip it described as "a monster."

Be sure to check out our CES Magazine for complete coverage, including all the news and roundups from this year's event.

— Ken Yeung, Flipboard's senior editor, technology & science, is currently curating "The Web3 Times."