Comforted by Comfort Food: 2019's Most Viewed and Shared Food Content on Flipboard
Mia Quagliarello / December 23, 2019
It was a scrum-diddly-umptious 2019 on Flipboard. With recipes being the No. 1 most shared content type on the platform, we doubled-down on food programming to curate and deliver the best recipes, the most interesting foodie collections, and expert videos that both informed and inspired those of us who love to cook and eat.

What rose to the top — either organically or through promotion because we loved it — represents the caviar on the blini that is food on Flipboard. If you don't already know these magazines, stories, curators and publishers, now's your chance to rectify that because they're about to make your culinary life a whole lot tastier.

Comfort + convenience + healthy eating = most shared food magazines 
The top 5 most shared food magazines in 2019 reflect the popularity of two seemingly disparate trends: comfort food and healthy eating. These niche interests are among the most intensely read on Flipboard. The healthy eating topic has over 2.7 million followers, while "potatoes" nearly doubles to a million viewers in fall, and in summer "ice cream" triples its usual readership, rising to 2 million viewers.

When you combine any of these trends with convenience — presto! — you have a winner. 2019's most shared food magazine was Eric Kim's "Set It & Forget It," an ode to slow cooker, Instant Pot, and simple recipes for cozy fall nights. Next was Eating Well's all-purpose "Recipes" magazine, followed by "Taco Obsession" from AllRecipes Executive Editor Jason Burnett, "Meal Prep Happiness" from long-time curator Victor Moruzzi, and "Breakfast Recipes" from The Kitchn.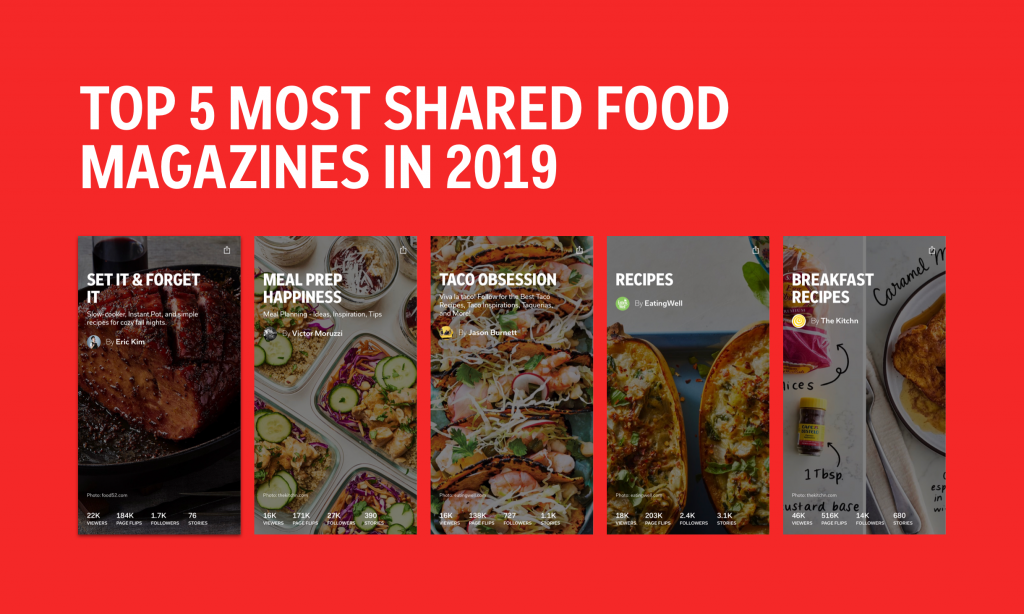 The Kitchn wins article shares (garlic butter and bacon don't hurt, either)
The Kitchn's "Garlic Butter Steak Bites" was shared 8,700 times on Flipboard this year, the most of any single food article on Flipboard. Inc's "Scientists Just Discovered That Coffee Does Something Absolutely Amazing to Your Body" came in second before The Kitchn appeared again with "We Tried 8 Methods of Cooking Bacon and Found an Absolute Winner."

Luxury food at budget prices dominates video views and shares
This MyRecipes video about Costco's "lobster claw of a lifetime" really got Flipboard users salivating back in March, and it ended the year as our most viewed food video. The same budget-conscious set with fancy taste buds made "The One Trick That Will Make Your Cheap Steaks Taste Expensive" the most shared food video on our platform. 

1,960 publishers per month create food-related content on Flipboard
Flipboard is home to almost all the best content creators when it comes to food — and the list is long! The top 10 traffic-wise are:
Classroom curation wins group magazine of the year
The most popular group food magazine this year was "Food ICS Grade 9," a classroom supplement with over 60 contributors. This is one of the coolest uses of Flipboard and it works well even if you're not a student. Learn how to share recipes with friends and family right here. 

What about you? What was your favorite food-related content in 2019? Let us know in the comments here or on Twitter using #FOODMAGSWELOVE to share your favorite magazines. Now get cooking!

— Mia wants to try these "Next-Level Latkes"