<![CDATA[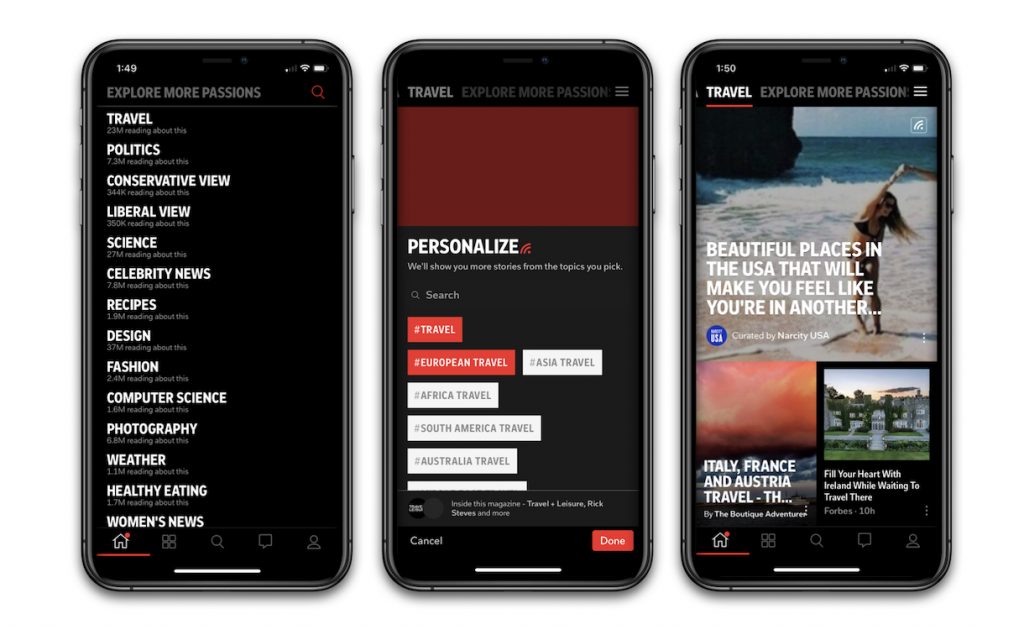 Looking for the day's headlines? Photography tips? Or dinner inspiration? Flipboard is known as the one place to get all the stories you need for your day. But since there is so much to discover, we wanted to share three simple hints on how to find the best stuff. Here are three great ways to get to what you want, quickly.

1. Use Smart Magazines
When you download Flipboard you pick topics to follow—that gets you started. But did you know you can also create totally customized feeds tuned for your interests? Here's how: Open Flipboard (you'll be in your For You feed) then swipe right to the topic list. Here you can pick a topic (or search for one) then you're prompted to personalize it and from that we create your Smart Magazine. For example, I love basketball, but more importantly I'm a Warriors fan. So after I select Basketball I refine by picking sub-topics like Steve Kerr and Draymond Green. Once you've customized the topic, we add the Smart Magazine to your Home carousel so it's easy to find!

2. Check out The Daily Edition and Today's Picks
When you open Flipboard, in the Home carousel (next to the For You feed), you'll find Today's Picks and Daily Edition, two areas curated by our editorial team every day. Daily Edition brings you the day's top stories with the latest in world news, politics, current events, business, finance, style, entertainment and sports. It's delivered to you at 7am every morning and updates as the day unfolds. Right next to the Daily Edition is Today's Picks, an area where we spotlight some of the best Magazines and Storyboards that fellow Flipboard users and publishers are curating. Every day we feature some of our favorite collections (on topics from remote learning to healthy eating) so it's easy for you to discover new and inspiring content to follow.

With these two tabs you can quickly get up to date on world events or just browse for inspiration!

3. The Explore Tab
The magnifying glass in the bottom navigation bar opens up a world of content to explore and find more of what matters to you. There are thematic collections on topics like COVID-19 and Vote 2020. There's a whole section on Local News where you can find and follow your city. You can browse sections on business, sports, food & dining, shopping, music and more. The Explore tab gives you a huge array of curated content and publishers organized by category for you to follow.

One other hint: If you see stuff you don't like or want to remove from your For You feed, you can always tell us you'd like "less like this" by tapping the three-dot icon on any item.

So now you've got some quick strategies and places to look for great content and inspirational collections to make your Flipboard experience even better. If you want to share your own tips and tricks to using Flipboard, tweet us anytime at @Flipboard #FlipTip.

Keep on Flipping!
-Marci McCue, head of content and marketing communications, is currently enjoying Margaret Garvin on Flipboard