How to Keep Up with #BlackHistoryMonth on Flipboard
Jenn de la Vega / February 7, 2017
February is Black History Month, and here are the ways to read and learn about the black experience in America. From historic civil rights moments like the speeches of Dr. Martin Luther King, Jr. to police brutality and modern social media activism, there are decades of ground to cover. Here are ways to follow the history lessons, multifaceted movements like Black Lives Matter and black Twitter voices on Flipboard.
Magazines and Sources
Here are community curated Flipboard Magazines and publications you can follow. As they update, you will see their stories in your Cover Stories. They offer a kaleidoscope view of the different industries, issues and generations spanning black history.
Black History Month 2017 by Margaret Garvin & Tawanna Browne Smith: Two curators team up to collect stories about people you should know, like NASA mathematician and supervisor Dorothy Vaughan.
Chimamanda Ngozi Adichie by Yvette Holland: Videos from the Nigerian novelist and TEDx Talk alum whose famous words were sampled in Beyoncé's "Flawless."
Ebony Magazine publishes cultural insights, analysis, daily thought and spectrum of opinions within the African-American community.
Dope Stuff by Black People by Blavity: The millennial website curates creative projects made, produced, or written by black people.
Best of Ta-Nehisi Coates by Ken Gilgren: Selected Ta-Nehisi Coates articles, interviews, commentaries, reviews, and previews of his Black Panther graphic novel.
Founded in 1970, Essence Magazine is the black woman's guide to what's hot in celebrity news and lifestyle.
BLACK GOLD by Jon Eijkens: Jimi Hendrix is remembered in this colorful photo album.
Remembering Maya Angelou by Claudia Dodson: Maya Angelou's words are brought to life with videos and sound clips to accompany the articles.
The Root is a digital magazine that provides thought-provoking commentary and news from a variety of black perspectives.
If Flipboard doesn't have a topic that you think should be included, you can take it upon yourself to make a magazine like these curators (here's our step-by-step guide).
Topics
Topics are an automatically updating mix of community curated stories that are indexed by our algorithms. As you curate magazines, they power our topics. Here are a few relevant to black history and culture.
Social Media
Did you know you can follow a Twitter hashtag in a beautiful, flippable format? You can interact and save tweets into magazines without leaving Flipboard's mobile app.
To add a hashtag like #BlackHistoryMonth to your Cover Stories, start by searching for it. Tap on the magnifying glass icon above your Profile.
Search for the hashtag. Tap on Social to reveal results from Twitter. Tap the black bar and the red Follow button.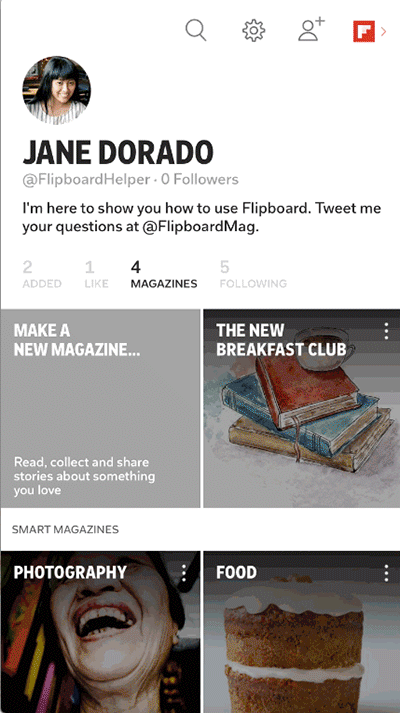 You can also create a custom Smart Magazine with the social media, various sources, RSS and curated magazines. Read our guide here.
What did you end up following? Did you make a magazine? Please tell @Flipboard on Twitter.
~jdlv is loving these Beyoncé GIFs