In a Holidaze? Do More Than Survive the Season with Holiday Central
Inside Flipboard / November 23, 2015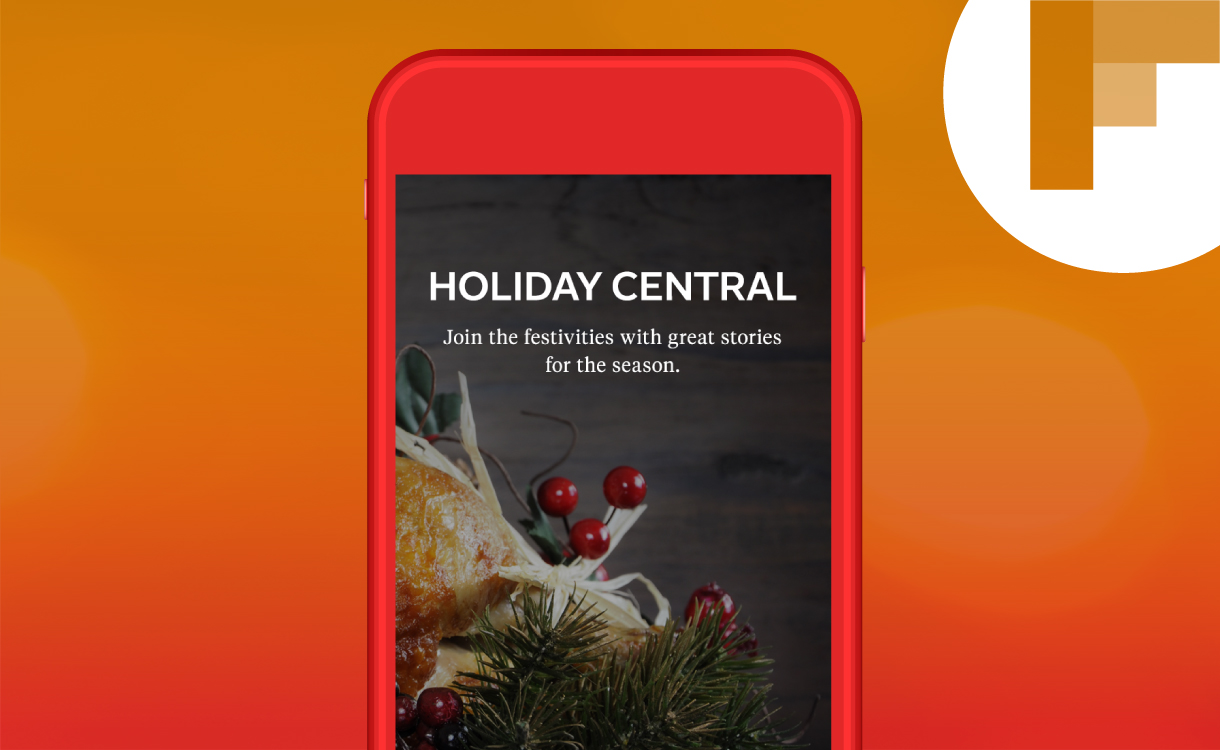 Sure it's a joyful time, but the holidays can also be stressful. From deciding what to buy for friends and family, to traveling with the masses in potentially snow-covered terrain, to heated debates at the dining room table, the holidays can go pear-shaped fast. While we can't prevent every #fail, we can help with prep, inspiration and moral support so you can survive the season.
Meet Holiday Central, Flipboard's 2015 destination for essential holiday content. We've compiled some terrific Flipboard Magazines, topics and articles about various aspects of the season, including:
Gift Guides:

Flipboard curators and publishers share collections and ideas for great gifts.

Holiday Food:

Covers everything from appetizers, bread and soup, to the mains, to desserts, coffee, wine and cocktails. Cheers!

Holiday Entertaining:

Whether your gathering is big or small, here's how to make your home, your table (and yourself) sparkle.

Holiday Entertainment:

With some time off from work, it's more likely you might actually hit your megaplex or have a moment to read, plays games or just chill. Special emphasis on the buzzworthy films coming out around now (helloooooo, Star Wars).

Holiday Travel:

We're thinking beyond grandma's here to beaches, Disney vacations, road trips and faraway locales.

Just for Kids:

So the littles are home from school. What to do with them once the luster of those gifts has worn off? Plenty of ideas here.

Give Back:

Let's not forget those in need this year. This metazine has collections about social impact, non-profits, charities and philanthropy.

10 for Today: Holiday Edition:

Our editors will be picking can't-miss articles about all of the above throughout the season.
Dig in to an individual magazine above, or follow the profile to keep up on additions to the destination. And don't forget to share your favorite holiday-related Flipboard Magazines with us by tweeting to @FlipboardMag. We can always update the collections.
~MiaQ is reading GOOD GIVING
P.S. Did you hear about Gift of Flipboard, a fast, fun and free way to tell someone you're thinking about them via interesting content around their interests? No? Read all about it here!
GET FLIPBOARD ON:
FOLLOW US ON:
FLIPBOARD / TWITTER / INSTAGRAM / FACEBOOK / GOOGLE+ /TUMBLR /YOUTUBE / SOUNDCLOUD / PINTEREST / MEDIUM