Stop Doomscrolling and Take Control: Personalize Your For You Feed
Victoria Tow / September 2, 2021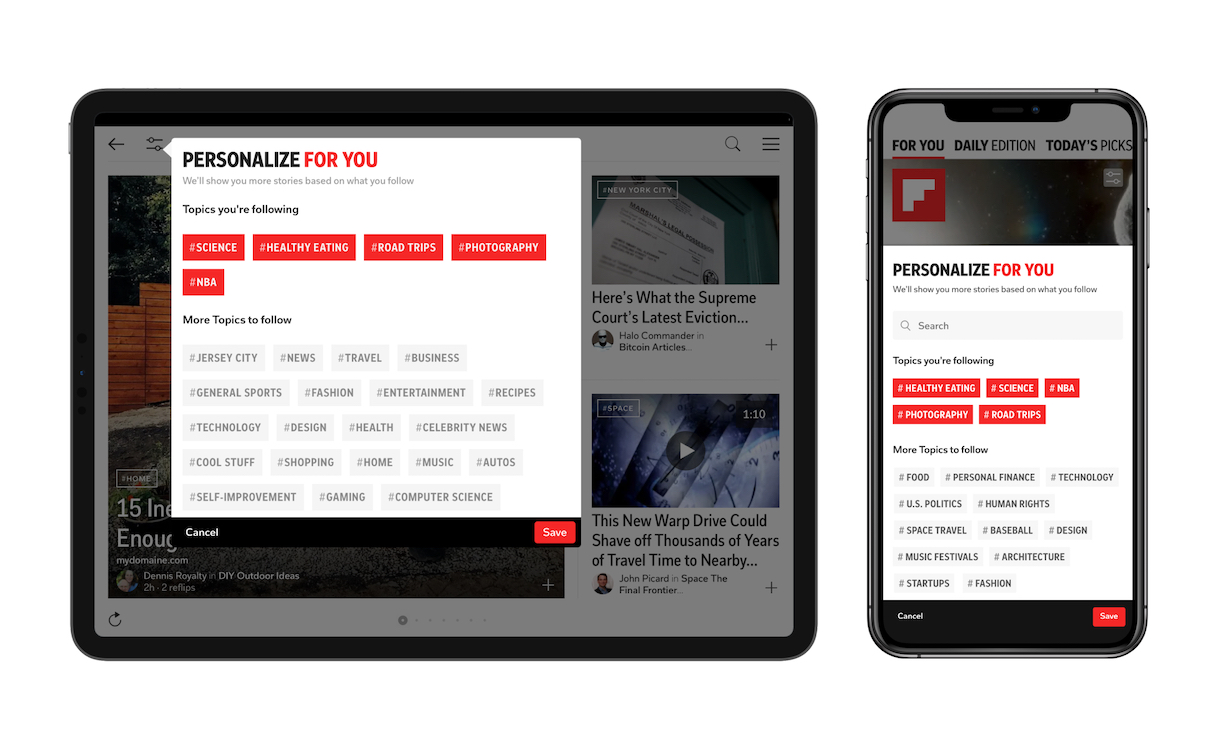 One of the best things about Flipboard is that you can customize it. Today, we launched new powerful personalization capabilities that give you more control of the stories you see in your For You Feed.

Through qualitative user research, we heard that users want more control over the content they see. Users shared that they weren't sure how to adjust their For You feed or customize their Flipboard experience. Last month, we introduced the ability to personalize Topics and refine the things you follow to your specific areas of interest. Since then we've been seeing thousands of people personalize Topics every day with a huge range of interests, personalizing everything from #Technology and #Cooking to #Dave Grohl and #Aliens.

However, hobbies and interests constantly change. What if you want to discover new Topics or no longer want to see a Topic at all? From our data, users seldom update the Topics they're following after onboarding.
Now, we're making it even simpler to see the content you care about by surfacing personalization to the forefront. When you open up your Flipboard app, you'll now see a "tune" icon. By tapping on the icon, you can easily update the Topics you follow.

Here's how you can personalize your For You experience:

Tap the "tune" icon on the top right corner.
Once you see the "personalization card", deselect #topics you're no longer interested in following and select #topics you want to see more of (or use the search bar to find more).
Tap "Save" and your Topic choices will now be reflected in your Flipboard.
Try it out!
We're excited to continuously improve Flipboard for our users. Stay tuned for how we surface even more content control capabilities through the evolution of this feature!
— Victoria Tow, product designer, has personalized her Flipboard to include #Sneakers, #Music, and #Design.