Extra, Extra!
Tech / May 18, 2017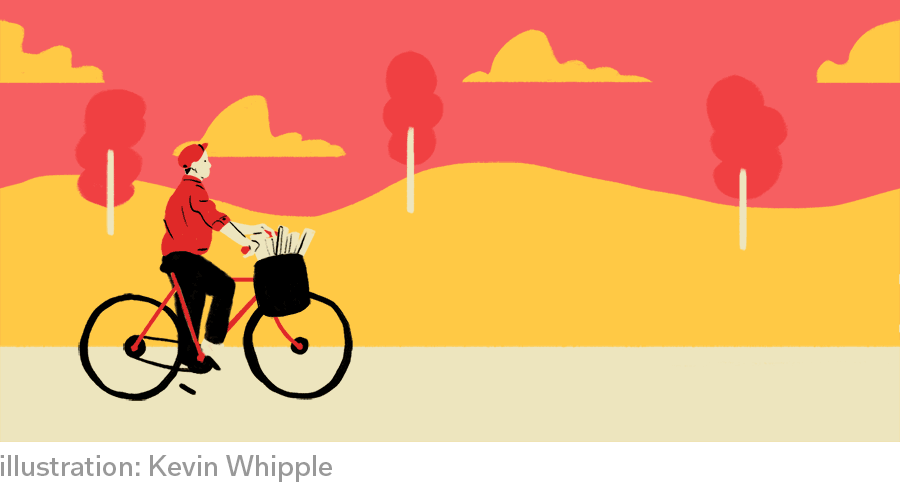 Over the past year or so, I've noticed that my favorite daily reading (aside from my beloved Flipboard) comes to me in email.
It started with the Quartz Daily Brief, an international business-focused read that arrived each day like the morning newspaper once did, in time for breakfast. I expanded my email newsletter reading to include Vox Sentences ("the news, but shorter") as an end-of-day treat, an intellectual cocktail. More recently, I've become addicted to the amusing and smart Ina Fried's tech-focused email, Log In, as well as Dan Primack's Pro Rata, which concentrated on finance with a heavy Silicon Valley perspective.  Finally, a co-worker pointed me to The Daily 202, the Washington Post's indispensable and comprehensive recounting of the previous day's adventures in Washington, DC.
It's hard to believe that email—that cacophonous, stress-y, millstone-like artifact of the information age—turns out to be just the thing for conveying great journalism.  But Mike Allen, the former Politico newsletter writer who last fall launched the email-newsletter-publishing company Axios (owner of Log In and Pro Rata, among others), clearly saw the opportunity. He raised $10 million to get Axios off the ground. The trick of great newsletter writing, he told TechCrunch at its Disrupt conference last week, is writing smart and tight: "People want sophisticated explanations, but those do not mean long explanations." He did not say, though it's clear from Axios's product, that the best of them are also conversational and fun, and make you feel like you're hanging out with a witty pal.
Here at Flipboard, we've noticed that some of our own newsletters, such as 10 for Today and Politics Rundown, are pretty popular, too. (Here's how to sign up for those.) So starting today, we're adding this one, which will be a once-a-week wrap-up of the tech stories that matter. The idea is to provide a place where people can quickly catch up via pointers to our illustrious publishing partners. And I will do my best to be your witty pal.
"People want sophisticated explanations, but those do not mean long explanations."—Mike Allen, CEO of Axios, to TechCrunch
QUICK FLIPS: In the interests of smart and short, and since I already squandered 300 words explaining the existence of this newsletter above, here are some notable links to the more interesting stuff our publishers covered last week.
The Big Take Away from Google I/O: Last week's developers' conference offered still more proof that the Big Four (Google, Apple, Amazon and Microsoft) see voice as the lingua franca to all our gadgets. The company is betting big on Google Assistant, which is getting better at natural language and becoming "conversational," according to TechCrunch. Android Central says Assistant "has the chance to be Google's most important and biggest platform, and eventually encompass and devour everything else the company has to offer." Though the war of the words is heating up—with Amazon launching an Alexa-powered video phone and kitchen appliance—CNET seemed pretty excited about something way more prosaic: Smart Reply—which uses machine learning and predictive typing to suggest quick email replies. Coming soon to Google's mail client. Email, again!
"Android O and 2 billion users is big news, but the real story from I/O 2017 is how everything will become a vessel for Google Assistant and the artificial intelligence that powers it."—Android Central
Zach Epstein of Boy Genius Report, had an interesting scoop: Apple is rumored to be "sort of" restoring a headphone jack to its upcoming iPhone 8. Epstein claims the new phones will support wireless charging, meaning that the lightning connector can accommodate a 3.5mm headphone adapter while the phone is  wirelessly charging. The fact that you couldn't do both with the 7 piqued some users.
"If you're stuck in the past,  you'll no longer have any problem listening to music while charging your phone beginning with this year's new iPhone models."—Boy Genius Report
Listen: CTR+WALT+DELETE podcast from The Verge on everything you wanted to know about I/O. (And congrats to Walt Mossberg for winning The Lifetime Achievement Gerald Loeb Award, the most prestigious biz journalism award in the biz.)
Watch: Spencer Chan, a VP of biz dev and marketing at Alibaba, had the Tweet of the Week (non-politics category) when he took the audio from the Blade Runner 2049 trailer and mashed it up with the new Google Assistant ad. The trailer by the way is not to be missed, especial for the Olds like me who remember the original.
See you next week.