Flipboard's Red Couch Goes to Vegas for CES
Christel van der Boom / December 27, 2016
One of the most asked questions in Silicon Valley this time of year is: "Are you going to CES?" With the growing popularity of C Space at CES, you'll hear the same question on Madison Avenue, too.  It's where you'll find Flipboard this year at CES; the team is bringing its signature red couch for photo shoots by Sports Illustrated photographer Peter Read Miller.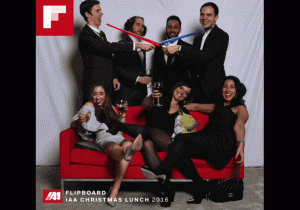 The red couch sessions always a ton of fun (as you can see from the photoshoots at Cannes Lions or the International Advertisers Association) but this time they'll be extra celebratory as we reached an important milestone: we now have over 100 million monthly active users on Flipboard!
C Space offers an experiential program for those interested in the convergence of advertising, content, entertainment and marketing with technology with a full lineup of conference sessions, networking events, exhibits and hospitality suites. It's described as a place "where serendipitous meetings occur, radical new technologies are discovered and the verticals of the global media business are the forefront of conversations."
So, where exactly can you find Flipboard?
We're kicking things off at the official MediaLink CES Kick-Off Party, an invitation-only industry event at XS Nightclub at the Encore Wednesday, January 4, the eve of CES. If this event is on your CES schedule, be sure to take a seat on the red couch and have your photo taken with us.
If you can't make it to the party, you have another chance the following day. All day Thursday our red couch will be at the OMD Oasis at the Venetian. Plan ahead because this is a venue where you have to be registered to get in. OMD created a full-day program about the immersive age of engagement and what this means for the future of media, brands and marketing.
If you are at the OMD Oasis at 1:30pm, you can catch our Co-founder and CEO Mike McCue on the panel called "The Art of Immersive Storytelling in an Attention-Deficit World," moderated by OMG's Claudia Cahill. Other panelists include Steve Peace (Sony Pictures Entertainment), Dawn Ostroff (Condé Nast Entertainment) and Des LaVelle (Facebook).
We hope to see you in Vegas!
~ChristelV is curating Eye Openers