Flipboard 101: How to Make Your Own Flipboard Magazine
Flipboard / June 23, 2021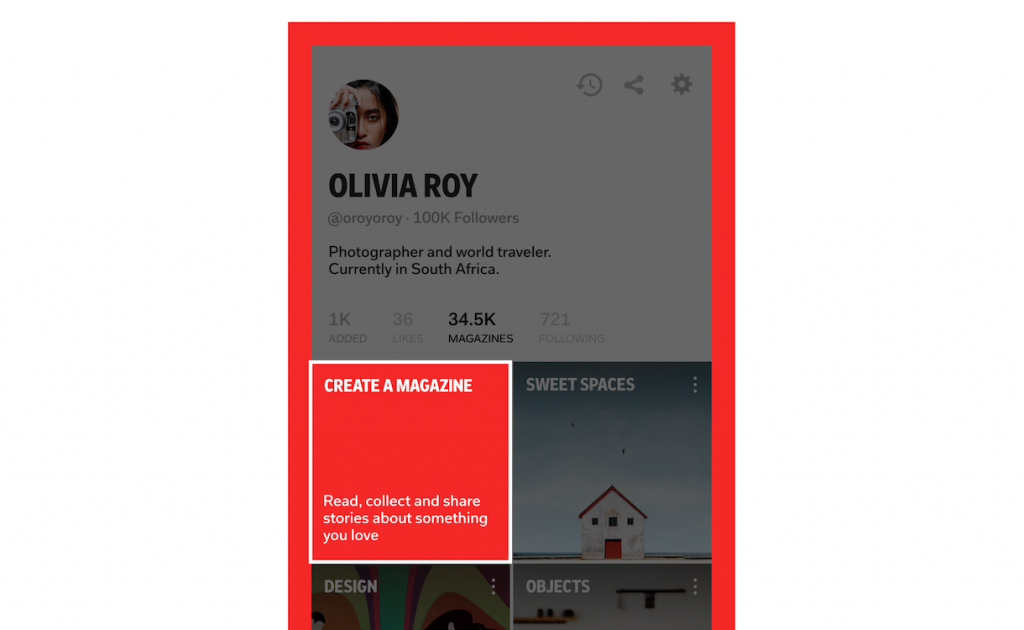 You may know Flipboard as a place to stay up to date with the latest news, but did you know that you can also use it to collect stories for later, like recipes, or to share articles and videos about hobbies or professional interests with others? Simply start a Flipboard Magazine and add anything that inspires you.

Creating a Flipboard Magazine is an easy way to organize favorite articles, videos, photos, podcasts and tweets, not just for yourself but so others can follow along. Almost anything that exists online can be saved and shared in a Magazine. And Magazines can be used for anything you can imagine — from planning your next road trip to sharing industry news.

Use this guide to create your first Magazine, one of the most useful features within Flipboard. Let's get started.

Create Your First Magazine: The + "Flip" Button

While browsing content in Flipboard you'll notice there's a plus + button on every story. When you find a story you want to save or recommend to others, tap the + and select "Create a Magazine." *Note: You can also create a new Magazine from your Profile.

You will be prompted to write a title and description for your Magazine. Use these fields to help your Magazine stand out from all the others — give it a unique name that tells people what kind of stories they will find inside and a description that offers more detail about the collection (ideally in 500 characters or less).

Lastly, decide if you would like your Magazine to be public or private.

Public Magazines are a great way to build a presence on Flipboard. When you create a Magazine, others can follow it and, as you add more stories to the Magazine, your Followers will see your recommendations in their For You feed. Additionally, when you add stories to your Magazine it acts as a signal to the Flipboard ecosystem and increases the opportunity for your recommended content to be discovered by others. Therefore, when you curate a public Magazine not only do you and your Flipboard Followers benefit, but you'll be improving the experience for everyone.

Private Magazines are good if you are looking to save content for yourself or if you want to collaborate with a small group. Private Group Magazines are especially useful for certain situations, like planning a surprise road trip for a friend or sharing industry news with your team at work.

Add Stories to Your Magazine

Now that your Magazine is created, it's time to fill it with fun, informative or inspiring content.

It's very easy to add ("flip") stories into your Magazine, either from Flipboard or from the web. Anything (articles, photos, videos, and more) on Flipboard can be flipped into your newly minted Magazine using the + button at the bottom of every item. Select stories from your For You Feed or use search to explore topic feeds. When you find something you'd like to flip into your Magazine simply tap the + — it's that easy! Keep adding stories to build your Magazine into a beautiful collection you would recommend to others.

From the web you can use the + Flip It Chrome extension or Flipboard Bookmarklet to flip content into your Magazines. This is a popular tool for bloggers looking to package and share their original content as well as YouTube creators or podcasters that want to build a Magazine of links related to a show — it's a cool way to package show notes.

When you flip content into your Magazine, you can also add a short caption to share your perspective about the story with your followers and other Flipboard users. This is particularly valuable for adding commentary about an article or video so viewers know why you're recommending the item.

You can find all your Magazines and your Flips in your Profile.
Share Your Magazine on Social Media

Once you have started to make your Magazine something truly personal and unique, you might feel like sharing it with the world.

Hit the share button to give your followers on Facebook, Twitter, and other major social media platforms a quick link to your Magazine. You can also use Flipboard's badges and buttons to link to your Magazine on your website, in your newsletters or from your social pages. Don't worry, others don't need a Flipboard account to enjoy your Magazine, they can just tap the link and the Magazine will open on the web (desktop or mobile).
Why You Should Curate on Flipboard

Whether your interests lie in gardening, cryptocurrency, or anything in between, you can use Flipboard to collect and organize stories for yourself or for others. The beautiful layout and easy access makes them fun to create and a powerful tool for sharing ideas and collaborating.

But most importantly, Flipboard is a place to get away from the noise. It is a place for inspiration and focus where you can enjoy (and now collect) the world's best stories all in one place.

If you want to see Magazines others are curating, visit our #magswelove collection.