The Photographer's Guide to Flipboard
Mia Quagliarello / April 7, 2022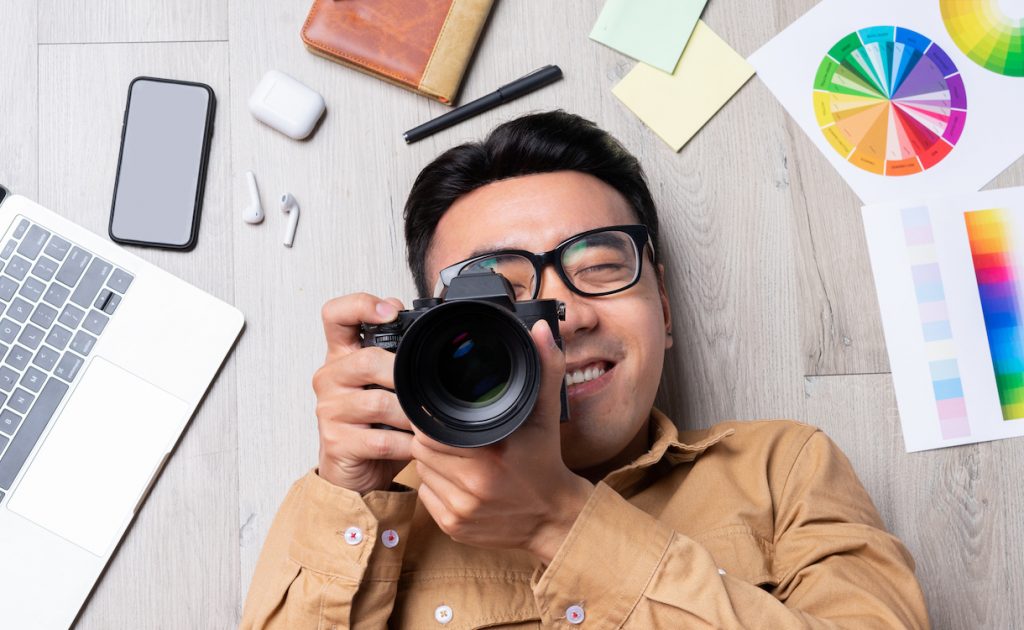 If you're into photography, there's no better place than Flipboard to learn the tricks of the trade and to keep up on industry developments like new cameras, trending projects, and award winners. The people on this platform are serious about photography — which means it's also an ideal place for photographers to share their expertise, grow their audience, and be featured as a prominent member of our photography community.

But how? Here are four ideas for how photographers can make the most out of Flipboard. (A few come from the playbook our second photographer in residence, Anete Lusina, wrote for the next resident, Erin Douglas. It's important advice, from photographer to photographer.)
1. Post your photos into a Magazine
We've heard it again and again: the love affair between photographers and Instagram is waning. Sure, Twitter is still a vibrant place for photographers, but if you want the content and the community without the noise, may we suggest, ahem, Flipboard. With 9 million people already following our photography destination, there is a rapt audience for what you bring to the table. Related topics, such as landscape photography, street photography and digital photography, have large followings, too.

Please note: sharing photos to Flipboard must be done from a phone for now. You can easily share photos directly from your camera roll on Android and iOS with native share and select the Magazine. You can also go to the collection (aka Magazine) you'd like to add it to, hit the pencil icon in the top right corner, select "Add a photo," write a caption, then post, as so.

2. Share photos with others

Now that you know how to share photos on Flipboard, you can collaborate with other shutterbugs in a Group Magazine. We love how photographer Jefferson Graham does this with people who attend his PhotoWalks. Jefferson invites participants to join him in his Flipboard Magazine, where everyone shares images from the event. Flipboard is the bridge between offline and online activity — and creates a memorable album in the process. 

If you teach photography, another idea is to use a Group Magazine to allow participants to share photos from a workshop, critique individual shots, and ask questions. 
3. Tell a story — especially your own!

The beauty of Flipboard is that all kinds of content can be elegantly packaged together — articles, photos, videos, podcasts, and more — allowing your audience to go behind-the-scenes and see who you are as a photographer. For example, if your style is influenced by a legendary photographer, you can include stories about your inspiration or technique, along with the work. Or perhaps you have a YouTube channel or a podcast about photography. Any and all of these assets can be curated into thematic Magazines, creating focused collections for your fans and followers.

"Don't forget that adding content to your Magazines gives additional exposure to the creators and that includes you," Anete underscores in her playbook. "If you've written a relevant blog article or you have been featured in a publication or on a news website, don't forget to 'flip' that into your Magazine, too. Your content doesn't need to be freshly published, either. You can go back to older pieces of content and flip them in corresponding Magazines…The opportunities to show your work and skills are endless!"

As an example, Anete used our Storyboard format (in private beta) to create a portfolio of her favorite pieces she's written for PetaPixel in 2021. Phil Penman shared the set-up he uses for his street photography in a Magazine. Kiliii Yuyan curated stories about what motivates him as a photographer: the magic of the Alaskan Arctic.
4. Find information and inspiration
Here's another tip from Anete, who, as a writer, really values what's happening in the industry and what others find interesting: "Seeing as search engines generally favor well-optimized websites, seeing what other people 'flip' into their Magazines is a great way to discover content. It can help you find interesting creators, their projects, interviews, and more, which you may not always come across using Google or other search engines that focus on SEO and the right keywords. Take a look at ND's "Depth of Field" or Narita Tahir's "Photography" Magazine for overall photography inspiration or Christopher Dunton's "Photos and Imaging" Magazine aimed at technical photo skills."
We know that many photographers also create other kinds of content so please also check out The YouTube Creator's Guide to Flipboard and The Newsletter Writer's Guide to Flipboard for more ideas.
And don't forget to follow #photography on Flipboard if you're not already. When you do, you'll automatically get "The Shot" newsletter, emailed every Wednesday with essential articles, videos and perspectives for photography lovers.
— Mia Quagliarello, head of creator community and newsletters, is curating the curators for "The Shot" newsletter (so let her know if you'd like to be featured!)